There is a day
when the road neither
comes nor goes, and the way
is not a way but a place.
— Wendell Berry
Poetry is mystery. Sometimes we know, and the eyes of our hearts come alive, certain that we see ourselves and the world more clearly. But sometimes we wonder, not really sure that we know what was written and why.
On this first day of the new year I have been pondering the image of pilgrimage. Understanding the longer I live that we are on a journey through the years of life, beginning here, then going there, more often than not with a sense of where we have come from and where we are going — even when there is perplexity and pain in knowing what we know and don't know.
Think about it.
The stories that we know best are always this story. The Exodus. The Odyssey. The Quest of the Holy Grail. The Pilgrim's Progress. Les Miserables. David Copperfield. Kristen Lavransdatter. The Lion, the Witch and the Wardrobe. The Hobbit. And more. Each one a journey, of there and sometimes back again, but always a pilgrimage, of a beginning and an end.
January 1 is like that, ending one year and beginning another, with continuity and discontinuity, some things that remain the same and then others that do not. The hours and days change, of course, but over time we do too, knowing more about God, about ourselves, about the world, further up and further in as we are into the story of our lives.
Not so long ago I spent a morning with a friend who is suffering. The very picture of health for 50 years, he has been diagnosed with Alzheimer's, its early signs already requiring a dramatic change of life for him. We took a long walk together, mostly me asking questions, and him telling me all that he wanted me to know. At the end, he turned to me, and said, "What I'm trying to understand is what 'This!' means in light of all that I believe about the world."
His question is our question, human beings that we are, sons of Adam and daughters of Eve that we are. What is my life all about? What is the world all about? And is there any honest coherence between the two? What does my story mean in light of the Great Story?
Berry's poem is profound, if mysterious. Musing over the same questions, wondering about the days of our lives, about the ways of our lives, and finally about where we are and why we are where we are. Where are we going, when all is said and done? The more I think about it, the more familiar it seems to me, as it is his own poetic way of asking what has been the long question of my life: do you have a telos that is sufficient to honestly make sense of the praxis of your life? Is there a meaningful coherence between what you say matters most to you, and the way you in fact live your life?
Last summer I was asked to give the eulogy for a dear friend who had died. In the tragedy of life, unable to speak any longer, he told his wife by blinking his eyelids that he wanted me to speak at his funeral. So, when the day finally came, honestly groaning and yet with true gladness, I honored him, remembering him. I finished my words with a reflection on Tolkien's story, "Leaf By Niggle," a wonderfully-imagined tale of this life and the next. When all of the hope and all of the heartache of Niggle's life come to an end, Tolkien takes us to a nether world for a time — an unnamed purgatory for hundreds of years — a place along the way to another place which Niggle recognizes, to his great surprise. For it is his own life which he sees more clearly than ever, now knowing what his years had been about, and what now was before him, forever and ever and ever.
Poetry is mystery. We see and we don't see, we know and we don't know. But written into Berry's poem is one of the truest truths of the universe, that "There is a day when the road neither comes nor goes, and the way is not a way but a place."
May it be so, and may this next year be one of deepened coherence for us, of greater congruity for us, that the days and ways of our lives will become a place in which we live and move and have our being, now and always.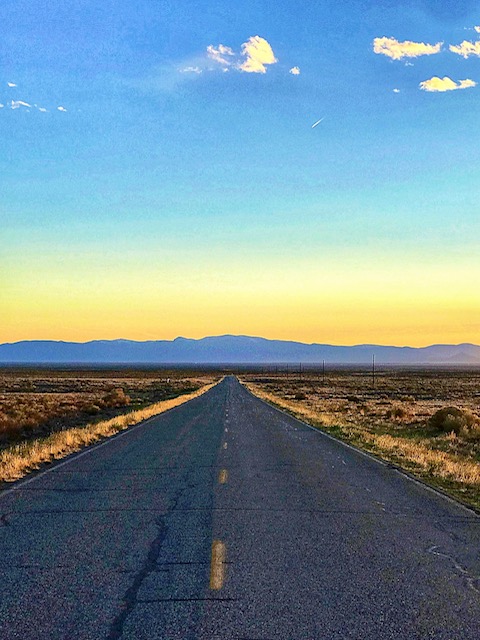 (Last night I looked through my photos of the last year, specially stopping at the sunsets, always beautiful they are, always different they are, and this one caught me, days and ways and places that it is of the highway between the Great Sands National Park and Monte Vista, Colorado, the heart of the San Luis Valley, the place of my birth.)