Pilgrims we are.
The stories of my life are always a story of journey, of people on pilgrimage from here to there, from one place to the next. The most ancient story we know is that story, beginning in a garden and ending in a city, and the best stories are one more version of that deepest story. Even the best stories within that Great Story are ones of journeys, the Exodus, the Prodigal Son, the Good Samaritan, the Way of the Cross.
Written a thousand years ago, "The Quest of the Holy Grail" is that story too, telling the tale of knights and their roundtable, of betrayal and courage, of virtues and vices that either make us more human and more holy, or not.
And "A Pilgrim's Progress" of course is that story, drawing us into the character of wisdom and folly, of the long obedience in the same direction, all the way to the very end, and beyond.
Tolkien was a master of this story, most fully in his magisterial "The Lord of the Rings," the pilgrimage of hobbits there and back again, but also in his brilliant "Leaf by Niggle," a short reading of one man's life, and death, and life again.
His colleague and friend, C.S. Lewis, has written for the ages with his stories of space and wardrobes, of bus rides to heaven, teaching all with ears to hear what the truest truths of the universe require of us.
And there are more.
Over the last days I have come home again, at least to a deep home. A pilgrimage perhaps, I know that this place pulls on my heart in mysterious and profound ways, once upon a time beginning my life here under the Sangre de Cristos. No longer the babe I once was, years later I am still being called into being, the commitments and loves that are mine becoming deeper, the vocation truer, the questions of my heart still asking to be answered.
For years I have lived with these words in the Book of Common Prayer, and they have been a line-in-the-sand, "Grant us strength to love and serve you with gladness and singleness of heart." Knowing what I know, having seen what I have seen, having heard what I have heard, can I promise that another day, another week? I want to, I do want to.
But along the way of life there are many reasons to stumble, and in different ways we all do, sometimes grievously, the wounds of the world wounding us. At least as I feel the world, there is more poignancy now, born of the weight of love that only grows over time. Too many of my friends are suffering right now, stretched taut between what they hope and want the world to be, and what in fact life in the world is, with its disappointments and griefs, pains and sorrows– and their groans become my groans.
These are the reasons that the best stories have always been stories of pilgrimage, each one of people like us with longing and loss marking the days of their lives, yet still choosing faith and hope and love. As signposts in a strange land, they invite us to remember what is real and true and right as we keep on keeping on, pilgrims we are.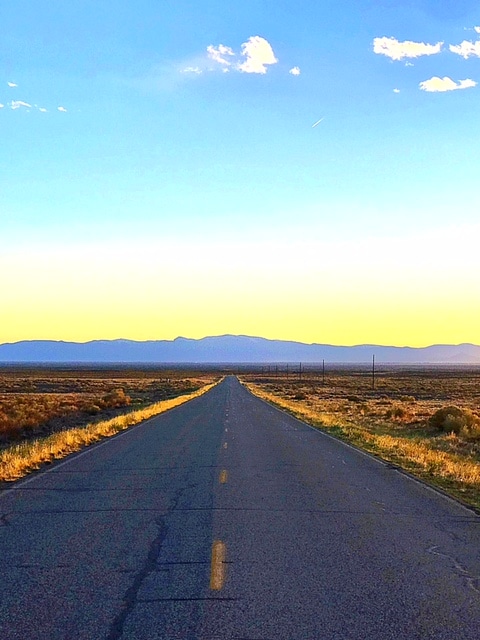 (Photo of the highway across the San Luis Valley, from the Great Sand Dunes to Monte Vista.)