"It is winter in Narnia," said Mr. Tumnus, "and has been for ever so long…. always winter, but never Christmas."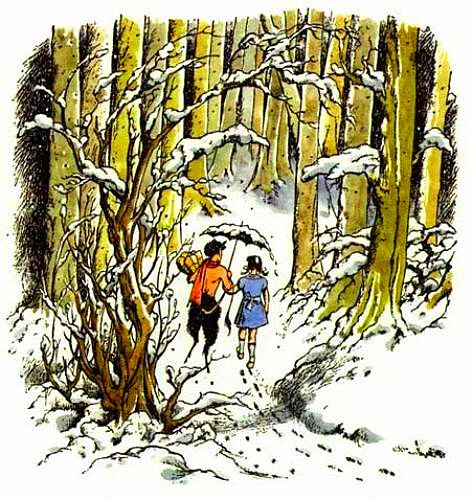 There are words that capture our imaginations, often from the very first time we hear them. I confess that when I read this so long ago now, I understood them— though now years later, I understand them so much more fully. At that first reading, they made sense of my life and world, young as I was. Now I have lived with them, and within them, for most of life, and I feel their weight deeply.
Like every other son of Adam and daughter of Eve, I feel the winter of this weary world. This week the death of a long friend, and the death of a long marriage; this year the deaths of other friends at moments that seem "too soon." For everyone of us, with our families, our friends, our neighbors, our cities, in every relationship in every way we are burdened by what is tragically not the way it is supposed to be. And beyond what we see with our own eyes, the day by day onslaught of the news of the world is more often than not a window into a heartache and horror that seem impossible to explain.
Across the board, in all of life, we feel the tension of the now-but-not-yet of history and hope. As my friend Todd Deatherage recently wrote, "Sometimes it feels like there is a lot more 'not yet' than 'now.'" From our most intimate and personal relationships on through to our most public and political responsibilities, working out a vision of vocation that gives coherence to life is more difficult than we ever wanted it to be.
Always winter. Never Christmas.
But then I know that I have staked my life on something more: that this wounded world, this very broken world, is not the last word. Simply said, I believe in Christmas, and in a Christmas that has moral meaning. Cursed as we are, cursed as this life so often seems, it will not always be winter.
Christmas has come, and is coming… and I am longing for its blessings to flow far as the curse is found.

(From C.S. Lewis' "The Lion, the Witch, and the Wardrobe," which I am reading again during these days of December. Dedicated to Lucy Barfield, daughter of his lifelong friend, Owen, whom I met 27 years ago in England driving him from Oxford to London one summer night. He was an old man by then, but still full of the memories of the years of his long life. And "no," I did not meet Lucy.)